As the world begins its return back to normal, reflecting on the past year, we see how the lock-down measures changed some of our shopping habits; yet we are seeing brick and mortar stores begin to bounce back. Many shoppers are eager to get back to the normal routines of frequenting physical store locations to get what they need rather than relying heavily on the internet, like many of us were just a few months ago.
The flip side to this is that online shopping has made shoppers expect nearly instant service when it comes to getting product information, filing returns and exchanges, or even one-click shop & ship services. These expectations coupled with the pickup in foot traffic, means that in store operations need to be streamlined as efficient as possible as efficiency is key when successfully addressing customers in-store needs.
Many stores have been implementing ruggedized smart devices for employees to access while at work in order to better streamline day-to-day store operations. However, the pandemic introduced new concerns regarding sharing devices and hygiene between employees; because of this organizations are now exploring the option of issuing one ruggedized device to each employee, for the duration of their employment.
Zebra is the industry leader in rugged smart devices for operational tasks in retail environments. Some of their new smartphone-style devices are designed to provide the durability and work productivity tools employees need while feeling and looking more like a personal device.
With this option comes a new set of challenges, employees want to be confident that only they can access their personal data, and keep the work data separate; while organizations want to be confident devices are secure and manageable.
In such cases, organizations have the option to configure these corporate-owned devices with a work profile for each employee. This will allow for an increase in employee productivity and now allow the employee the ability to have a personal profile on the device as well.
This does change the work dynamic, rather than employees having to leave their personal lives in a locker for the duration of the workday, they can now use their corporate-owned devices with a work profile as well as a personal profile, and can remain connected to both work and family & friends through a single device and still be efficient at the workplace.
Through a unified endpoint management solution(UEM), your organization retains control over device functions putting your enterprise at ease regarding issues such as data leakage, operational data movement & security, and complete remote device management. RemoteRelief is proud to be a Partner with Zebra, specializing in deployment, remote management, and secure operational data movement of endpoints for retail, and other product and service environments.
RemoteRelief utilizes VMware Workspace ONE® Unified Endpoint Management (UEM) system to remotely manage a wide range of mobile computing devices encompassing a variety of use cases including, ruggedized handhelds and tablets, wearable's, and fixed devices, running on Mac/iOS, Windows® or Android™ operating systems.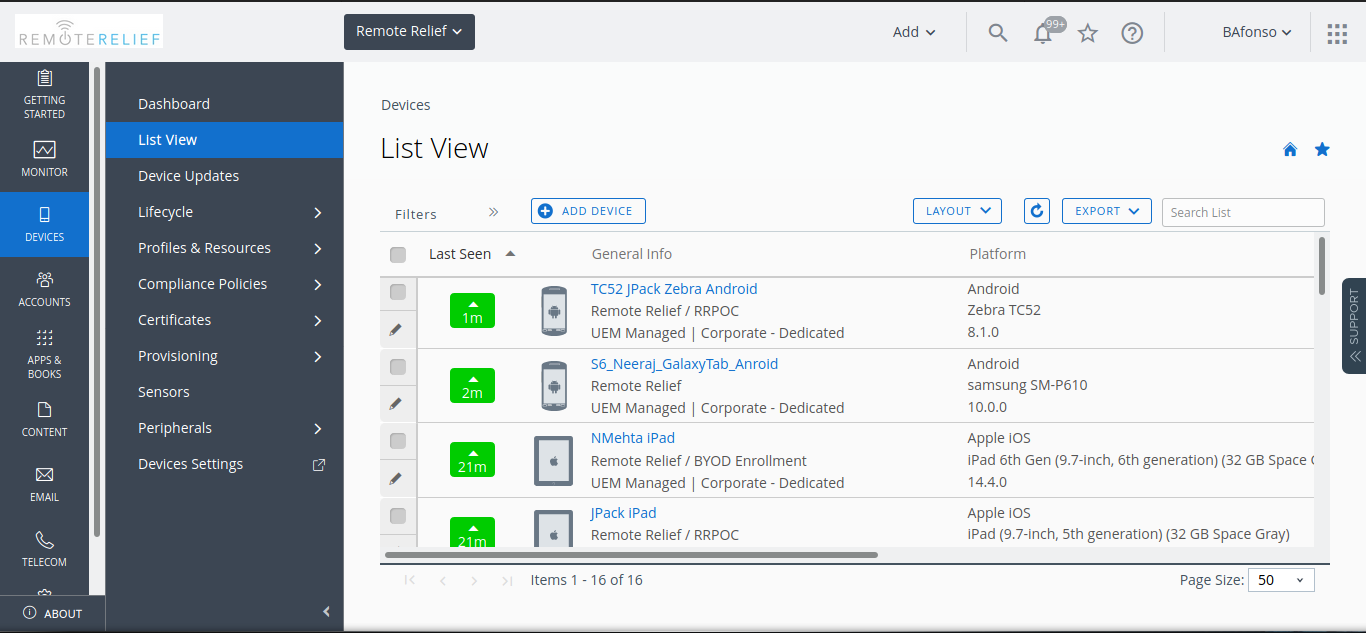 The system can be deployed on-premises or remotely; companies will be able to benefit from the centralized management capabilities of the UEM platform, allowing them to view and manage every device's data, location, sensors, battery-operated data collection devices and receivers in one environment.
Where RemoteRelief shines is when an IT department doesn't always have enough digital workspace expertise on its staff to create and maintain these changes, deployments, and integrations. Our subject matter experts, specialize in assisting clients in setup, deployment, and remote management of enterprises' systems and devices as well as secure operational data movement of vital company data from physical endpoints.
If you would like more information about RemoteRelief and our services, please subscribe to our tech blogs. If you are interested in a demonstration or learning more about RemoteRelief's services, features, and benefits, click here to speak with a subject matter specialist.