Many companies ranging from small stores to larger enterprises', are utilizing iOS devices, in most cases IPad's, for store operations. If a company uses Apple products, it's likely they're also utilizing some of its mobile device management (MDM) protocols to manage the fleet.
The current design flow of Mobile Device Management can be described as "imperative". Generally, in software frameworks, this means that changes and requests are "pushed" from an external system or server to instruct the device what action to complete and when.
This "push" communication style means the device remains relatively passive until the MDM system sends a command, triggering a system update, app install, remote wipe, device information sample or other behavior.
Apple recently announced changes to its MDM protocols at WWDC 2021, introducing a new approach it calls "declarative management." Declarative management allows the device to be autonomous and proactive, freeing up the server, in order to be lightweight, reactive, and subscribe to updates without constant polling. An autonomous device reacts to its own state changes and then applies management logic to itself without needing prompting from the server.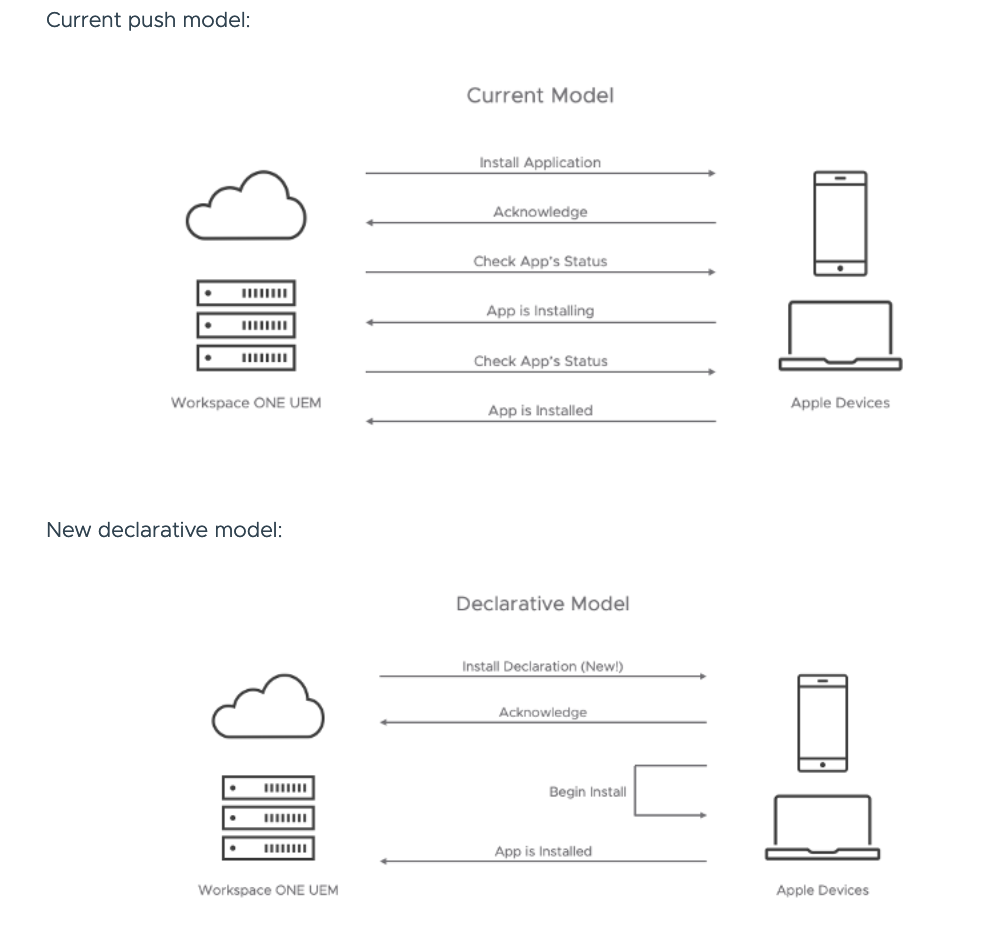 Simply put, it's designed to give each device more power and more responsibility, and in turn, replaces the server-heavy, imperative MDM approach in use today; (where a device is enrolled, profiles are then downloaded, and appropriate action happens once the device confirms its status).
As a result, the device becomes more autonomous and proactive by policing itself to ensure it maintains company security and device policies. Under this model, the device doesn't need to interact with the MDM server for everything.
Individual devices are still constrained by the MDM security policy but can better assess some states rather than seeking permission from the server. The devices will also proactively send updated information to servers as required.
IT admins understand that the current imperative modeled MDM systems can sometimes put a strain on management servers at certain times. Apple's new declarative management approach was designed to help reduce that workload and increases performance and scalability; this will be very beneficial when managing large fleets of Apple products.
One thing declarative management does require is that your MDM system supports Apple's new approach; and most MDM solution vendors have already begun working with Apple's new protocols and anticipate most will be ready to roll with support for declarative management on launch day of the new operating system.
VMware is one of the market leaders in MDM solutions with their Workspace One MDM solution powered by AirWatch. RemoteRelief is a certified VMware Partner, reseller and managed service provider of Workspace One.
Where RemoteRelief shines is when an IT department doesn't always have enough digital workspace expertise on its staff to create and maintain these changes, deployments, and integrations.
Our subject matter experts, specialize in assisting clients in setup, deployment, and remote management of enterprises' systems and devices as well as secure operational data movement of vital company data from physical endpoints.
If you would like more information about RemoteRelief and our services, please subscribe to our tech blogs. If you are interested in a demonstration or learning more about RemoteRelief's services, features, and benefits, click here to speak with a subject matter specialist.