Retailers are surprisingly resilient and are no strangers to change; always altering layouts and designs in order to maximize sales efficiency, constantly reacting to consumers' shifting needs and expectations. Yet nothing has forced such a sudden and dramatic global overhaul to environments like retail and hospitality as the COVID-19 pandemic.
With social distancing rules the new norm it doesn't appear that they will dissipate any time soon. It's because of this retailers have to make a critical shift in the way operations are conducted. The unfortunate reality is, as of this time we still have a long way to go before life goes back to "normal" If it ever does. Making it clear these new standards are here to stay, this means the impact this pandemic has on environments such as retail are structural, the familiar retail experience we've come to know is now evolving.
In early March 2020, global economies started to temporarily shut down due to the pandemic. This had a clear and devastating impact on all retailers, both essential and non. For many retailers the main goal now was to maintain stability and continuity of operations to just stay afloat, and for some it was an all hands on deck scenario with little to no hands available. Retailers were forced to utilize any and all resources in order to maintain steady operations. This meant optimizing labor in ways that minimized costs, ensured customer demands could be reasonably met, all whilst maintaining employee and customer health and safety.
When "panic buying" started to strain supply chains, it became apparent that traditional supply/demand planning models were not going to be sufficient to keep stores or warehouses stocked. Retailers and grocers immediately started investing in technologies such as Zebra devices, that could give them a crystal-clear picture of what was happening within their walls and within their supply chains in real time. They quickly embraced analytics to detect new inventory demand patterns, as well as help prevent fraud, theft and shrink/waste.
Nearly every retailer increased its utilization of mobile computing and scanning solutions. Some grocer retailers utilized intelligent automation solutions such as "smart bots" to better gauge shelf inventory and locate inventory that was misplaced amidst the rush of customers speeding up restocking efforts.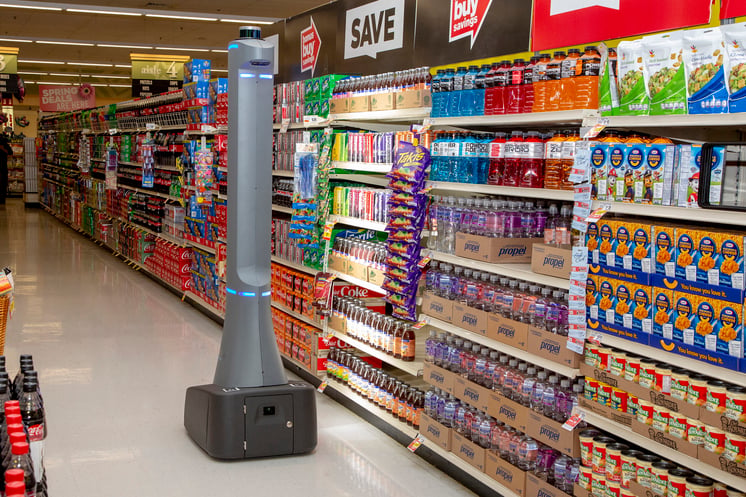 Fast forward to present Sep 2020, operations are starting to stabilize. Essential retailers are able to focus on institutionalizing these new methods of engaging customers with a combination of in-person ingenuity and the aid of mobile computers, scanners, and automated digital solutions. From directional flow lines to special store hours for immuno-compromised customers, transparent dividers preventing contact, more rigorous cleaning regiments and increased support for delivery services and curbside pickups are creating the new retail norm.
The ability to scale up digital capabilities to support these initiatives and meet the evolving demands will be critical to retail success both now and in the aftermath of the pandemic. Take online Grocery shopping for an example. Up until now its been a slow to grow trend that didnt really take off until the pandemic happened. The amount of mobile orders for grocery and other retailers like clothing have seen an incredible increase from their online ordering platforms. This turns out to be a huge win for retailers.
Once consumers saw that stores could meet their expectations, and resolve issues quickly if they did occur, now online shopping for store pick-ups is becoming more popular. Since the rate of exclusive online shoppers ( or mobile apps) is growing also by the day, retailers who continue to expand their online presence and improve the shopping and fulfillment experience in store will be able to greatly benefit in the long term.
At the same time, retailers who focus on improving the safety, speed and convenience of the in-store shopping experience will find it easier to generate foot traffic as stay-at-home orders have begun to loosen and the world starts to resume. Those who can introduce contact-less payment options will make it easier for shoppers to get in and out, and will increase customers' comfort in returning to brick-and-mortar locations.
Rebuilding retail after the pandemic won't just be about working back to the pre-2020 programs, rather the future of the industry depends largely on retailers' ability to prioritize operational transition, to take advantage of new solutions and technologies in order to balance employee health and safety, improve the customer experience and maintain profitability.
RemoteRelief is a certified Zebra Partner, VMware Partner, & RemoteLink Partner, specializing in deployment, remote management, and secure operational data movement of endpoints for retail, and other product and service environments. Helping enterprises' better streamline workflows and securing vital data. Zebra has become the industry leader for front line devices, both fixed and mobile, empowering those on the front line of retail, healthcare, transportation/logistics, manufacturing and many other industries to achieve that performance edge, that in term translates to delighted customers, fantastic client outcomes and superior business results.
If you would like more information, subscribe to our tech blogs. If you are interested in a demonstration or learning more about operational data movement, managed mobility, RemoteLink features, database administration, automation and reporting capabilities click here to speak with one of our subject matter experts.