If you have RemoteWare, then you know that SAP is no longer offering new developments and updated support features for their software. Though they do provide minimal support for issue resolution, RemoteWare is no longer available in the SAP price book, which means you cannot add on to your existing system if the need should arise.
How RemoteWare Could Be Inhibiting Future Growth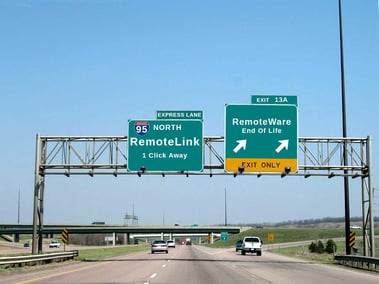 Depending on the size of your company, RemoteWare may or may not still be able to fit your needs. Unfortunately, the software will be unable to grow with your business as you scale in the future. As a refresher, the system only supports a maximum of 384 simultaneous connections per cluster. When broken down, this means that you are allotted up to 64 simultaneous connections per server. There is also a limit of six servers per cluster and no opportunity to add more.
For example, if you're business is currently operating with two servers for data storage, then you will only be able to have a maximum of 128 simultaneous client connections and no opportunity to add on since RemoteWare has been phased-out of SAP's offerings.
As you grow, your business will inevitably require additional clients, which means additional connections. If you currently have RemoteWare and see this as an issue for your future business growth, we strongly recommend learning more about switching to RemoteLink.
RemoteWare Restrictions for Data Mining
While the RemoteWare end-of-engineering announcement meant that there will be no new updates or changes to the software, it's important to note the system's data mining restrictions. Since RemoteWare only stores logs and scheduler data in a database, all other information is stored in proprietary files. What this means is that all of the data required to make informed business decisions across the company is only accessible to analysts and company leadership.
By restricting data in such a way that employees cannot use it to improve daily operations, customer service, and product/service offerings, you are also restricting your company's ability to successfully grow and scale. A data movement system is only as beneficial as you make it. It's your choice whether you want to simply collect data and use it at the top-levels, or allow it to inform decisions throughout your organization.
Your Data Movement System Options

Unwired RemoteLink is an alternative system that Unwired Revolution developed as the solution to RemoteWare end-of-engineering. The design behind the new software allows for seamless integration, increased scalability, database storage, and a web-based access portal. In addition to streamlined client installation and significantly lower costs, RemoteLink offers the greater automation and extensibility that RemoteWare can no longer support.
Curious about the benefits of working with an IT consulting firm when making decisions on your data movement system? You may be interested in reading, The Benefits of Working with an IT Consulting Firm.