We live in a connected world. Oceans are no longer barriers, and global discussions no longer require any travel. We also have the ability, through modern technology, to work from anywhere around the world. Sales departments can spend exponentially more time cultivating customer relationships from wherever they're needed while still remaining connected to their organization. According to Global Workplace Analytics 2016 Report, among Fortune 1000 companies around the world, employees are away from their desks 50-60% of the time. Data doesn't lie, and these statistics will continue to grow as more "mobile-first" millennials become the primary workforce demographic.
The worldwide mobile workforce is set to increase to 1.87 billion people or 42.5 percent of the global workforce in 2022, up from 38.8 percent in 2016. -Strategy Analytics, Global Mobile Workforce Forecast Update 2016-2022 (Nov 2016)
Mobility Device Management (MDM) is more important now than ever before. It gives organizations the ability to connect with their employees regardless of geographical location while simultaneously sharing secured enterprise critical data. Furthermore, MDM can allow employees the freedom of choice and preference with their mobile device selection.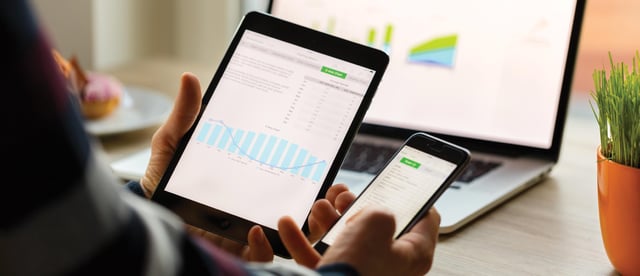 Benefits of Using A Mobile Device Management Solution
One Console, No Device Discrimination
MDM can give you the ability to manage a variety of devices, including those with different operating systems, from a single console. It also supports both employee and company-owned devices, along with all shared devices.
Easy Enrollment (welcome the new kid!)
MDM makes it easy for employees to enroll new devices without the need to visit their company's IT Department. New technologies are released every year, which makes device turnover an almost annual occurrence.

Business Exercise:
α = Number of Hours Spent by IT Department on Enrolling New Devices ______________________.
β = Cost Per Hour for IT Department _______________________ (Hint: [Daily Wage Rate/Hours Worked]XNumber of IT Employees working on enrollment).
α X β = ____________________ (Cost to Operate Without MDM)
Ask yourself, what could my business do if we didn't have that cost?
Secure Remote Access
Using an MDM system can give employees secure remote access to corporate files. This is especially important for sales representatives and consultants who are frequently working away from their home office.
Open Ecosystem
You can easily integrate MDM with your current enterprise infrastructure. In newer updates, these systems have also included the ability to share company-wide apps and push their installation to all connected devices.
Visibility
Finally, having a unified system allows for greater visibility across all mobile device platforms.
When choosing the best mobile device management solution for your business, make sure these benefits are available. This is what the industry leader has to offer, so don't settle for less. While we always recommend that you do some of your own research, it's usually beneficial to ask an expert for their opinion as well.
We are entering an age of the internet of things, where only those who embrace evolution and connectivity will survive.