Today's the day that iOS 11 is released to the public. For most consumers, that means a lot of excitement and new features coming to their devices. However, on the enterprise side, we need to make sure our companies are prepared for this release. In order to see if you are ready, here's a quick overview of what the iOS 11 release means for your company and devices.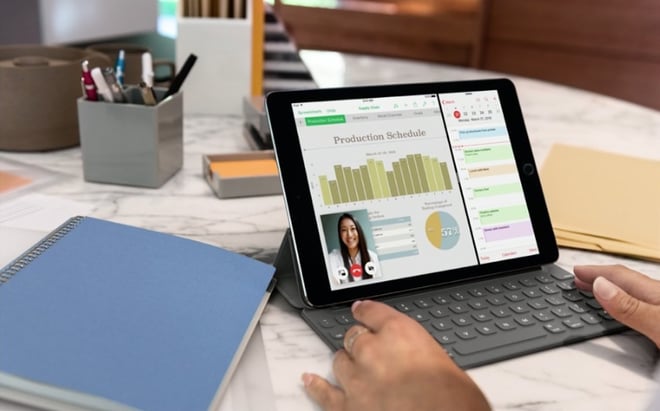 iPad Pro as a Laptop Replacement?
If your company is looking into using the iPad Pro to potentially be a laptop replacement, now is a good time. With iOS 11, the iPad Pro has evolved into a true content creation device that enables more than just basic web and app usage — its functionality now resembles that of a light laptop. Features such as the new Files app, Dock enhancements, a new app switcher, and drag and drop functionality will help deliver a more desktop-like experience to enterprise users. These significant improvements in usability and productivity clearly show that Apple is trying to close the gap between the tablet and laptop user experience.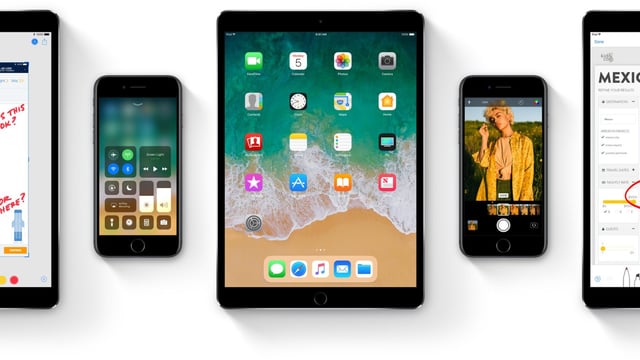 New Mobile Device Management Features in iOS 11
Apple School Manager (ASM) has a new UI and more features for user and device management, but the most important updates are around the Volume Purchase Program. VPP will be integrated into ASM, and license management will be much more logical.
Any device (not just devices from authorized resellers) can be added to the Device Enrollment Program (DEP). Since DEP can permanently link a device to an organization, there's a 30-day provisional period.
MDM can now push iOS updates to supervised devices, even if they're locked. (MDM could already push updates to unlocked DEP supervised devices.) The often-requested ability to delay iOS updates still isn't happening, though.
Back in 2015, Apple announced that some restrictions available to regular MDM-enrolled devices would get deprecated to just supervised devices. This is finally happening in 2018, and these restrictions include app installation, app removal, FaceTime, Safari, iTunes, explicit content, iCloud documents and data, multiplayer gaming, and adding GameCenter friends.
MDM commands can be marked so that they only execute when the device has a wired connection (via USB or Ethernet). This keeps OS updates and app and book installations from clogging WiFi networks, and it can also be done in conjunction with the Content Caching service. Content Caching used to require macOS Server, but now it will be built into macOS 10.13 High Sierra.
There are new controls to configure the home screen layout, apps, and content ratings in Apple TV.
To go along with the WiFi restrictions in iOS 10.3, there are new VPN restrictions in iOS 11.
Apple has now posted the video, slides, and documentation from its MDM session last Thursday.
(Again, you can head to Apple for the full list, as well as for macOS management announcements.)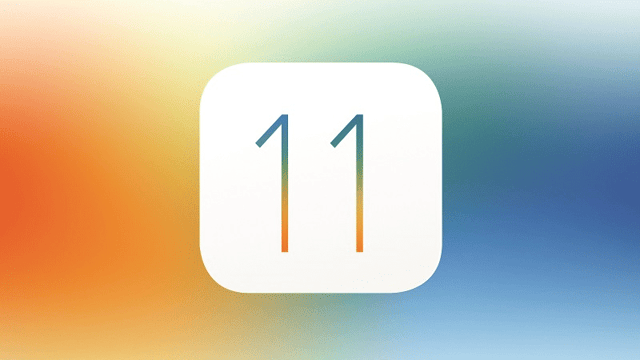 Great New Enterprise Features Coming in iOS 11
NFC Access
Third-party developers gain access to the NFC chip inside iPhones with iOS 11. The same chip used by Apple Pay, new iOS frameworks suggest it will now also be able to read any tags. Reading a wider number of tags will open the platform up to supporting additional NFC-based services, such as NFC-based security systems, public transit systems, and (presumably) payment cards.

Wi-Fi Sharing

iOS 11's new Wi-Fi sharing feature is interesting. Essentially it means you can log people into your network just by moving their iOS device close to yours. That's a neat little feature for consumers, but for enterprise users could very easily expedite any existing weekly, monthly, or daily Wi-Fi password resets for security purposes, as iOS-based employees will simply need to tap and share to get online.

Business Chat

"Business Chat is a powerful new way for businesses to connect with customers directly from within Messages. Using Business Chat, your customers can get answers to questions, resolve issues and complete transactions on their iPhone, iPad, and Apple Watch. Customers can find your business and start conversations from Safari, Maps, Spotlight, and Siri."
Files App
Apple's new Files app is going to be incredibly useful. It gives a real and natural-seeming file management system to iPhones and iPads which also integrates with third-party online services. These include Dropbox and Box, but also include Microsoft's OneDrive. This should be excellent news for Office-based enterprises utilizing SharePoint sites.
Security Enhancements

Apple has hit back against recent SMS fraud attempts, introducing SMS fraud protection in iOS 11. This will warn users when they receive an SMS message that could be fraudulent, creating an additional layer of defense against phishing and ID attacks. Apple has also introduced a new Location Services Setting, which means users can restrict apps so that they can only access location status when the app is actually in use. Finally, the company has baked a wide range of enterprise network security features, though it hasn't discussed these in too much detail (beyond its much-improved data transport controls). One big improvement, Safari will have a new tool for blocking third-party ad trackers.
Siri Support for Apps

Apple has also introduced new machine learning APIs in iOS 11, which means enterprises can create intelligent and personalized apps, even extending to Siri support for third-party applications.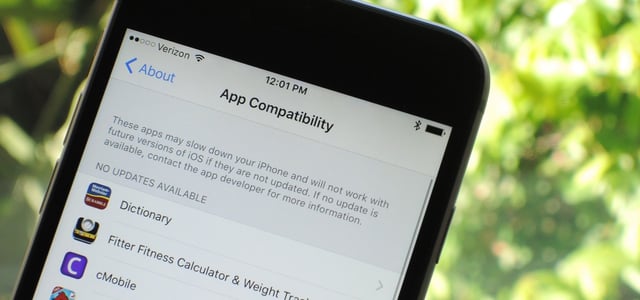 Possible Concerns Due to the iOS 11 Release
Apple will

terminate support for 32-bit apps in iOS 11

. The company has been warning of this plan since 2016, and it hits with iOS 11, when 32-bit apps will no longer launch. Take stock of your existing iOS app deployments now to ensure critical software isn't impacted by the change. (Apple also plans to end support for 32-bit apps on Macs in 2018.)

Older devices will no longer be supported (

iPhone 5 / 5c & older and iPad 4 & older). (List of

supported devices

)

There may be some CIOs concerned about Apple's cloud-based iMessage storage system in iOS 11. What this means is that iOS 11 will store your messages in iCloud. That's good as it saves space on your iOS device, but it may be a concern to some security-conscious firms who may now need to think about what security policies they wish to put in place to govern online storage of potentially confidential business messages with a third-party public-facing provider. Apple claims these will be protected by end-to-end encryption in transit, but those working with highly confidential data will want to look into this.
With iOS 11, Apple continues to build on its enterprise security and management foundation. Improvements such as enhanced Cisco integrations, new App Store management features, and Device Enrollment Program updates will give IT admins greater control and flexibility over device and app security. As with any new release, you shouldn't deploy until you feel your company is ready, but when you do, you'll have a lot to take advantage of with iOS 11.